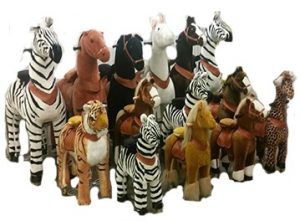 So what is Lil' Riders all about?  If you think of a rocking horse on wheels, which moves around and you can steer it.
The movement is to push down with your legs on the stirrups and pull back on the head which makes the saddle rise.
This makes the pony open and close its legs and move forward. The saddle then moves up and down as well, so this gives the full movement as if riding the real thing.
They come in 3 sizes Small, Medium and Large, and they are all adjustable on the leg length.
Ages from 3 to Adult can use them, yes Mum and Dad you can ride as well.
The cycles are both safe and encourage healthy exercise.
Safe because you have to hold on to the handle grips on the each side of the head and healthy as it requires muscles in the body to make it move.
Pony Cycles are built and made in China.
Lil' Riders only hire this product.
We have a Facebook Page please visit to keep up to date with activities.
We are located in Egham, Surrey.
For your peace of mind we do have our own PLI and I carry out full safety checks on the cycles before they are used.
I am also CRB checked.
These cycles are fully mechanical and require no electric, or batteries to operate.
So how can they help you?
Our main aim is to hire them out for fetes, parties, fundays, race nights etc
These ponies require a hard surface to ride on safely, so all you need is a floor space.
They do not damage the flooring of any type.
As this is a new concept, you might have an idea for them.
Please contact us if you are interested in these being used in your school for example.
Call us on: 01784 463562, Mobile: 07973 658535 or Email us at : info(Replace this parenthesis with the @ sign)lil-riders.co.uk
Many thanks for taking the time to read this and hope we have sown the seed of thought for a future event.
Pete and Ali Atkins Lil' Riders